Designed with Education Institutions in Mind
Sophos Firewall includes features purpose-built for higher-education, K-12, and primary or secondary education institutions and the challenges you face.
Powerful Web Filtering Policy

Utilize built-in policies for CIPA compliance and other education specific features for SafeSearch and YouTube control.

Child Safety and Compliance

Get compliant immediately with our built-in policy settings and important features to monitor activity online.

Context-aware Keyword Filtering

Identify problematic behavior like bullying before it becomes a real issue.
Insights into Top Risk Users

Recognize users with risky online behavior so you can take appropriate action.

Chromebook Support

Adds to our extensive user authentication options to enable full user-based policy and reporting on every platform.

Top-Rated Protection From Threats

Ensures you're not wasting time cleaning up malware outbreaks or recovering from ransomware.
Powerful Online Compliance Tools
Sophos Firewall removes the blinders, providing extreme visibility and insight into all network activity whether it's encrypted, evasive, or elusive.
Powerful Web Filtering Policy

Sophos Firewall provides a powerful but intuitive web policy model that you would normally only find in dedicated enterprise web filtering products costing much more. It makes managing multiple user- and group-based custom policies a breeze. And, Sophos Firewall correlates each user's surfing habits and activity with advanced threat triggers and history to identify users with risky online behavior.

Child Safety and Compliance

Sophos Firewall provides built-in features and policy settings that help organizations become compliant with local regulations quickly and easily. Sophos Firewall includes built-in policies for CIPA and pre-defined activities like "Not Suitable for Schools" as well as features like SafeSearch, YouTube restrictions, and keyword filtering to enable child safety online.

Context-aware Keyword Filtering

With Sophos Firewall you can identify potentially problematic behavior early on. Sophos Firewall can log, monitor, or even enforce policies related to keyword lists related to bullying, radicalization, or self-harm (for example). You can schedule reports to identify users at risk and get details about their activities, including what and where they are posting or what sites they are visiting.
Eliminate an Enormous Blind Spot
TLS Inspection that just works – fast.
Sophos Firewall's Xstream TLS Inspection solves this problem once and for all – so you can now fully enable TLS Inspection without compromising on performance, protection, privacy, and user experience.
Identify Risky Users
With unique features you can't get anywhere else.
Sophos Firewall helps you identify your top risk users based on recent web activity and threat and infection history. A user's risk score can be an indication of unintentional actions due to a lack of security awareness or the sign of a rogue or negligent user.
Sophos Firewall offers the most extensive set of user authentication options available on any firewall, including Active Directory integration, Chromebook support, and even our unique and easy-to-use Synchronized User ID solution that makes user identity completely transparent and trouble-free.
Identify Tunneling and Evasive Applications
Sophos Firewall's Synchronized Security Endpoint Integration identifies all unknown, evasive, and custom applications running on your network so you can easily identify rogue applications like Psiphon and block them.
How It Works
Synchronized Application Control is activated whenever there is unidentified app traffic on the network.
Intercept X shares the application path and executable with Sophos firewall through Security Heartbeat™.
Sophos Firewall can automatically classify the new app and you can change its category any time.
The new application can now be controlled by policy to block, throttle, or prioritize it.
Put Your Network Protection on Autopilot
Sophos Firewall is part of the world's best cybersecurity system, integrating in real-time with Sophos Central and Intercept X.
Monitor Health and Threats
Sophos Firewall and Intercept X work together to continuously share health information over Security Heartbeat™ so you know the health of your network at a glance and are instantly notified of any active threats.
Automatic Threat Isolation
When either Sophos Firewall or Intercept X identifies a threat, they work together to provide an automatic response with dynamic firewall rules and lateral movement protection isolating a compromised host to prevent spread, hacker communication, and data loss.
100% Application Visibility
Intercept X is constantly sharing networked application information with Sophos Firewall to identify, control, and provide SD-WAN routing of your important business apps all while blocking any unwanted apps.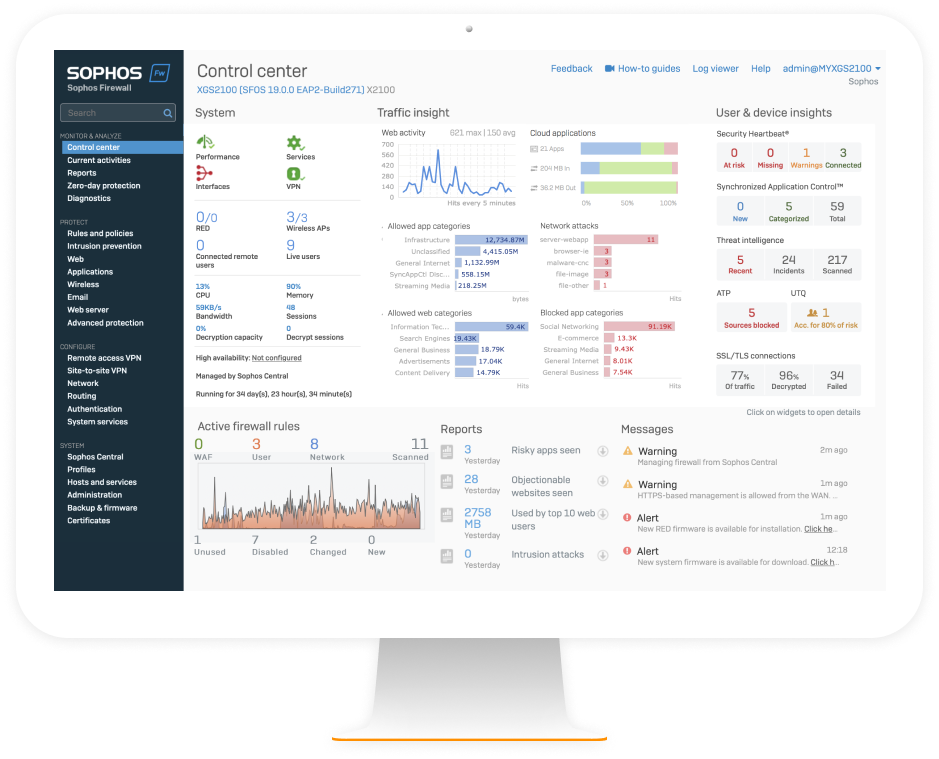 One Console
Sophos Central enables you to manage all of your IT security protection through a single cloud-based platform.
The Sophos Central dashboard consolidates all your alerts, enabling you to focus on what's important. It also makes central management of all your firewalls and other Sophos products a breeze.
Sophos Central is accessible from anywhere, on any device, any time. It doesn't get any easier – and it's free. You don't need to deploy anything or pay extra to make your life easier with Sophos Central.
Take it For a Test Drive
Demo all Sophos Firewall's features.
Instant access. No Installation. No Commitment.