Zero Trust Network Access
Securely connect your users to your applications.
The perfect complement to your Sophos Firewall, Endpoint, XDR, and MDR solutions.
The Ultimate Remote Access VPN Replacement

Enhanced Security
ZTNA eliminates vulnerable VPN clients, integrates device health, and removes the implicit trust and broad network access that VPN provides. It allows granular access to resources defined by policies based on health and identity to enhance your security posture.
Easy Management
ZTNA is built to scale quickly and easily, unlike old-school VPN. It's cloud-delivered and cloud-managed in Sophos Central. Sophos ZTNA offers a unique single-agent, single-console, and single-vendor solution with Sophos Intercept X for easy deployment and management.
Transparent Experience
ZTNA works reliably everywhere without getting in the way — at home, hotels, airports, or in the office. It just works — always. Users won't even know it's there, which means fewer support calls and fewer headaches for everyone.
Sophos ZTNA:
Single Agent, Single Console, Single Vendor
Sophos ZTNA is the only zero trust network access solution that is tightly integrated with next-gen endpoint, XDR, and MDR.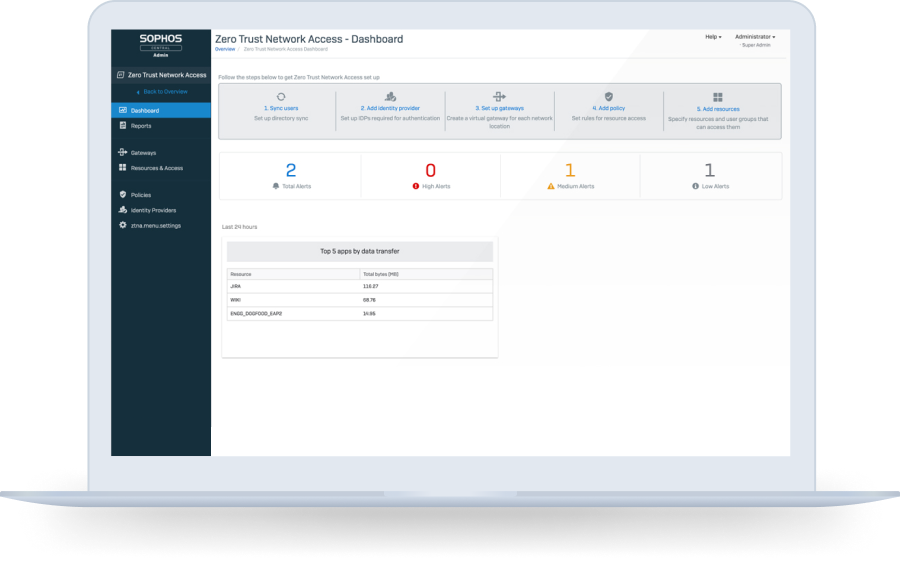 Unified Endpoint Security: ZTNA, Endpoint, XDR, and MDR
With Sophos ZTNA, you can secure your application access and protect your endpoints and networks from ransomware and other advanced threats with the most powerful machine learning and next-gen endpoint technology available while also enabling advanced cross-product detection, and response. You get holistic end-to-end protection, detection, and response that's effective and easy to use.
Single Agent
Sophos is unique in delivering an innovative integrated single agent solution for both endpoint and ZTNA – that deploys with just a single click. You might not even need an agent, since some web browser-based apps don't require one.
Single Console and Single Vendor
Sophos ZTNA is part of the world's most trusted cybersecurity ecosystem, managed from a single cloud console – Sophos Central. You deploy, manage, and report on your entire cybersecurity estate from a single pane of glass. No other vendor offers this kind of integration and simplicity.
Active Threat Detection and Response
Sophos ZTNA takes full advantage of our unique active threat response capability by sharing health information between Sophos products to automatically limit compromised devices from accessing networked applications. If a user's device becomes compromised, it won't be able to spread beyond that device.
Synchronized Security Heartbeat
Shares device health between Sophos products such as Intercept X, Sophos Firewall, ZTNA, and more so these products can automatically respond to an active threat on the network.
Efficient Threat Response
Compromised devices automatically isolate and contain threats and prevent lateral movement until they are cleaned up.
Active Threat Response
Any device identified as having an active threat is automatically isolated and contained by other Sophos products until it is cleaned up, preventing lateral movement of ransomware and other attacks.
Sophos XDR and MDR Integration
Sophos ZTNA integrates with Sophos XDR and MDR and enables security teams to investigate and analyze user and application access activity such as denied access attempts and much more.
How It Works
Sophos ZTNA as a Service (ZTNAaaS) makes zero trust access easy with a single agent and single console, from a single vendor.
Sophos Zero Trust Endpoint
Run agentless or use our unique lightweight Sophos ZTNA agent that integrates with Sophos Intercept X to provide the ultimate zero trust endpoint solution with Synchronized Security. Sophos ZTNA also works with your existing endpoint protection product.
Sophos Central
Makes ZTNA as a Service easy with quick deployment, granular policy controls, and insightful visibility and reporting from the cloud. It integrates with popular identity providers to enable intelligent access enforcement for your applications through continuous user verification and device validation.
Sophos ZTNA Gateway
Available as a virtual appliance on Hyper-V, VMware, and Amazon Web Services, it's free and easy to deploy. It makes your applications invisible to the public internet while providing a secure connection for verified users and their validated devices to the applications they need to do their job.
Better Security That's Easier
Yes, you can have both! Sophos ZTNA provides better and easier security than remote access VPN. It's easier to deploy and scale and more transparent for end-users.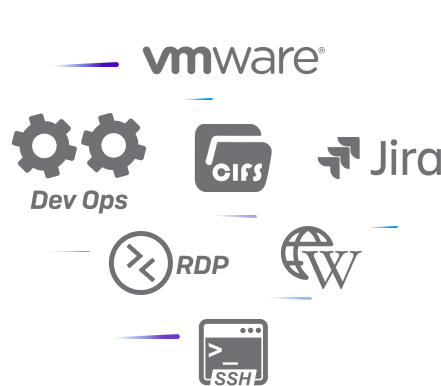 Flexible Application Access
Get transparent clientless access for web-based applications. Plus, protect your SSH, RDP, VNC, and other TCP/UDP thick applications via the Sophos ZTNA client.
Granular Control
You have complete control over who can access your applications and under what conditions — all from Sophos Central.
Seamless End-User Experience
Your end-users won't even notice the frictionless and transparent security that's enabling them to be productive from anywhere.
Cloud-Delivered and Cloud-Managed
Begin your SASE journey with Sophos ZTNA – Our first of many security service edge (SSE) solutions.
ZTNA-as-a-Service
Sophos has been a leader in leveraging the cloud to deliver innovative cybersecurity solutions, and we continue to do as we transition into the future. Sophos ZTNA is the first of many SSE solutions to come, delivering security services hosted in the cloud to meet the demands of a modern distributed workforce.
Managed by Us or Managed by You
Sophos is unique in offering you the ultimate cloud-based management solution for all your cybersecurity needs with Sophos Central, as well as offering the option to have us manage it for you with our fully managed 24/7 threat hunting, detection, and response service.
Pragmatic SASE for Everyone
Like you, we're taking a pragmatic approach to cloud-hosted security services. We're implementing SASE services in a way that will immediately add value to your hybrid networks, solving your top problems with a distributed workforce and limited resources all while operating in an extremely hostile threat landscape. At Sophos, integration, simplicity, and value are part of our DNA, so you won't be surprised that they are part of our SASE strategy as well.