The Ultimate Security Package
Proven protection for your network – simpler, faster, better.
Deep Learning Protection
Sophos UTM drives threat prevention to unmatched levels. The artificial intelligence built into Sophos Sandstorm is a deep learning neural network, an advanced form of machine learning, that detects both known and unknown malware without relying on signatures.
Sophos UTM 9.4 is one of the first Sophos products to offer our advanced next-gen cloud sandboxing technology.
Sandstorm provides a whole new level of ransomware and targeted attack protection, visibility, and analysis. It can quickly and accurately identify evasive threats before they enter your network. Sandstorm is:
Easy to try, deploy, and manage
Effective at blocking evasive threats
Simple and powerful cloud-based protection
And, it's tremendous value: it's enterprise-grade protection without the enterprise-grade price-tag or complexity.
We keep it simple
Sophos UTM's simple, intuitive user interface (UI) is designed for you. It lets you quickly protect your network and users. And it makes day-to-day management tasks easy.
Simple management
Sophos UTM is easy to use thanks to the configurable real-time dashboard, flexible modular licensing, and intuitive reusable network object definitions..
Network protection
Easily configure firewall rules that cover multiple destinations, sources, and services – plus country blocking and intrusion prevention (IPS).
Web protection
Check out the web protection deployment options, policy settings, filter action wizard, policy test tool, and convenient built-in web reports.
App control
Easily control web applications proactively or in real time using the popular flow monitor where you can block, shape, or throttle web application traffic on the fly.
Advanced Threat Protection
Advanced Threat Protection (ATP) features include multi-layered protection, selective sandboxing, and the ability to identify infected hosts on your network.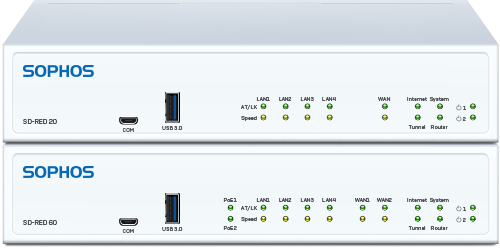 Connecting remote offices
Easily deploy and configure our unique SD-RED devices to securely connect remote offices to your primary network security appliance.
All-in-One Protection
We offer the latest next-gen firewall protection you need, plus features you can't get anywhere else – including mobile, web, endpoint email encryption, and DLP. No extra hardware. No extra cost. Simply choose what you want to deploy.
License our protection modules individually or choose one of our pre-packaged licenses.
Logging & Reporting
Our built-in reporting means you'll know exactly what's happening with your users. Fix problems fast and shape your policies, keeping your users secure while boosting network performance. And, you get detailed reports as standard, stored locally with no separate tools required.
At-a-glance flow graphs show usage trends and web activity
Our daily summary executive report keeps you informed
Report anonymization can hide user names where needed
Built-in Syslog support and automated log backup options
Need More Reporting?
Although you can have all your logging and reporting built in to your box, sometimes you may need a little more. For that, you can add Sophos iView.
Flexible Deployment
Sophos UTM is unmatched in its deployment flexibility: choose from hardware, software, virtual or cloud with simple options for high-availability, clustering, branch office connectivity, wireless, and centralized management and reporting. And unlike our competitors, we don't make you compromise on features or performance when you choose - every feature is available on every model and form-factor.

SG Series
Our SG Series hardware appliances are purpose-built devices with the latest technology to provide the ultimate in performance.

Software & Virtual
Install the UTM image on your own server hardware or your preferred virtual environment including VMware, Citrix, Microsoft Hyper-V and KVM.

Cloud
Sophos UTM is an industry leader and a preferred solution for securing Amazon Web Services network infrastructure.