The best cybersecurity.
Uniquely integrated. Easy. Effective.
Sophos Central is a single cloud management solution for all your Sophos next-gen technologies: endpoint, server, mobile, firewall, ZTNA, email, and so much more. With a unified management console, real-time information sharing between products, and automated incident response, Sophos Central makes cybersecurity easier and more effective.
Save Time, Effort, and Money
Consolidating all your protection into a single cloud platform means you can scale your security without scaling your resources. With everything in one place, you'll save time, effort, and money.
Put Your Security on Autopilot
Industry-leading A.I. and tightly integrated products share information to automatically respond to incidents. No other security vendor offers this many products integrated this deeply.
Information at Your Fingertips
Consolidated views, powerful reporting, and real-time data across cloud, endpoint, and network gives you actionable insights you can use to respond faster and more accurately than ever before.
More efficient. More secure.
Customers consistently say that time and effort spent managing IT security has been reduced by at least 50% since moving to a Sophos next-gen cybersecurity system managed through Sophos Central.
Running a Sophos cybersecurity system managed through Sophos Central means fewer incidents to deal with and less time spent managing IT security.
Real-world customer benefits include:
85% reduction in the number of security incidents
90% reduction in time to identify issues
90% reduction in time spent on day-to-day cybersecurity administration
Double the efficiency of the IT security team
Transform your protection
Sophos Central provides unmatched protection and is uniquely integrated to share information and coordinate a response like no other cybersecurity solution. If it needs protecting, we can help you secure it: endpoint, server, mobile, public cloud, firewall, email, wireless, WAF, ZTNA, and more.
Next-gen technologies
AI-powered predictive prevention
Enterprise-level detection
Automated incident response
Deep data analytics
Synchronized cross-product telemetry
SophosLabs Intelix threat intelligence
Cross-product investigations
"

Having tools that automatically detect and correct most security events enables our small IT team to manage the company's security and prevent it being compromised.

"
Harness the power of automated response
Sophos Central is at the heart of Synchronized Security: the unique ability of Sophos products to share information and automatically respond to threats. It's one of biggest game changers ever in cybersecurity.
By sharing information and telemetry in real time, Sophos products can automatically respond to incidents for you.
Isolate infected endpoints, blocking lateral movement
Restrict Wi-Fi for non-compliant mobile devices
Scan endpoints upon detection of compromised mailboxes
Identify all apps accessed by users
"

I'm confident leaving the office knowing everything's being monitored.

"
Unique, actionable insights into your security posture
From insight to action in a single click.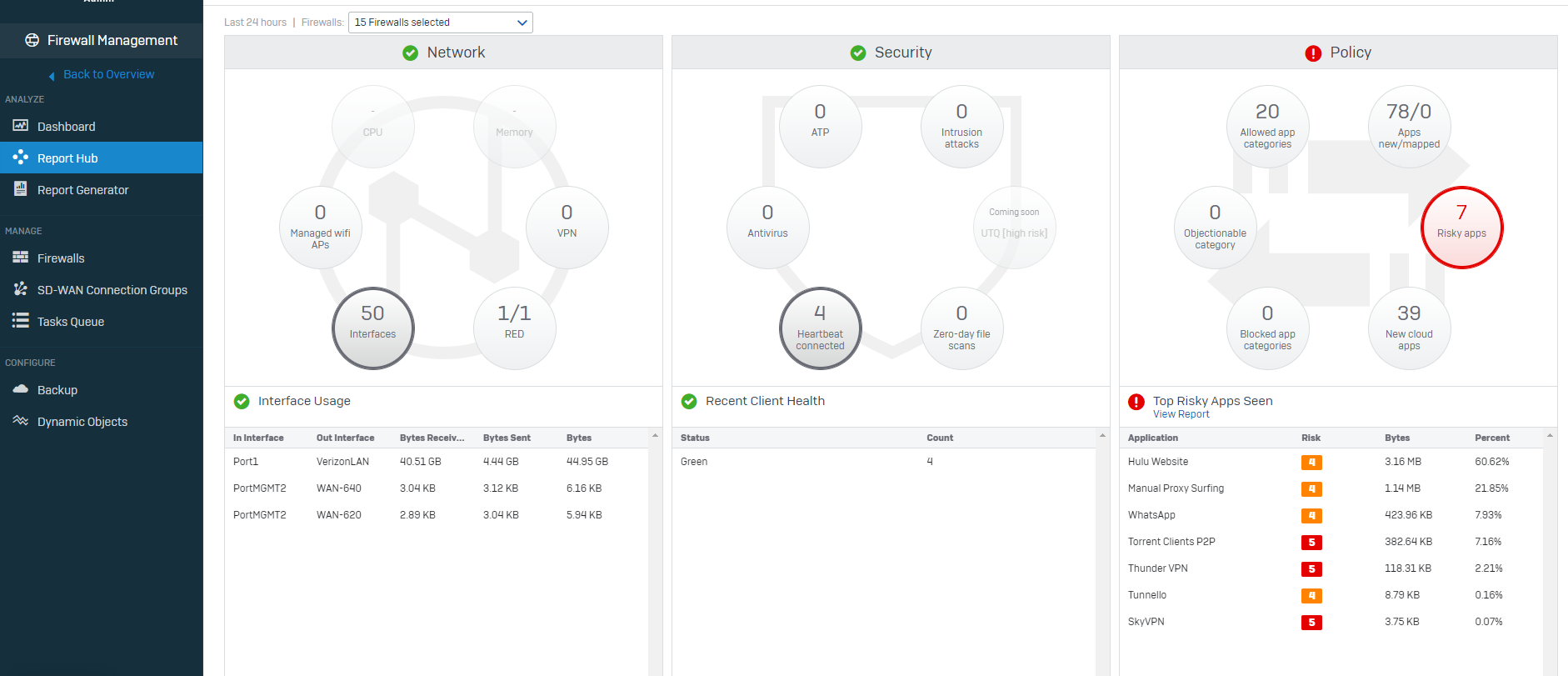 Powerful Dashboards
Powerful dashboards, reporting, and notifications
Get at-a-glance insights with visual dashboards
Dig deeper using powerful reporting and analytics
Stay informed with flexible notifications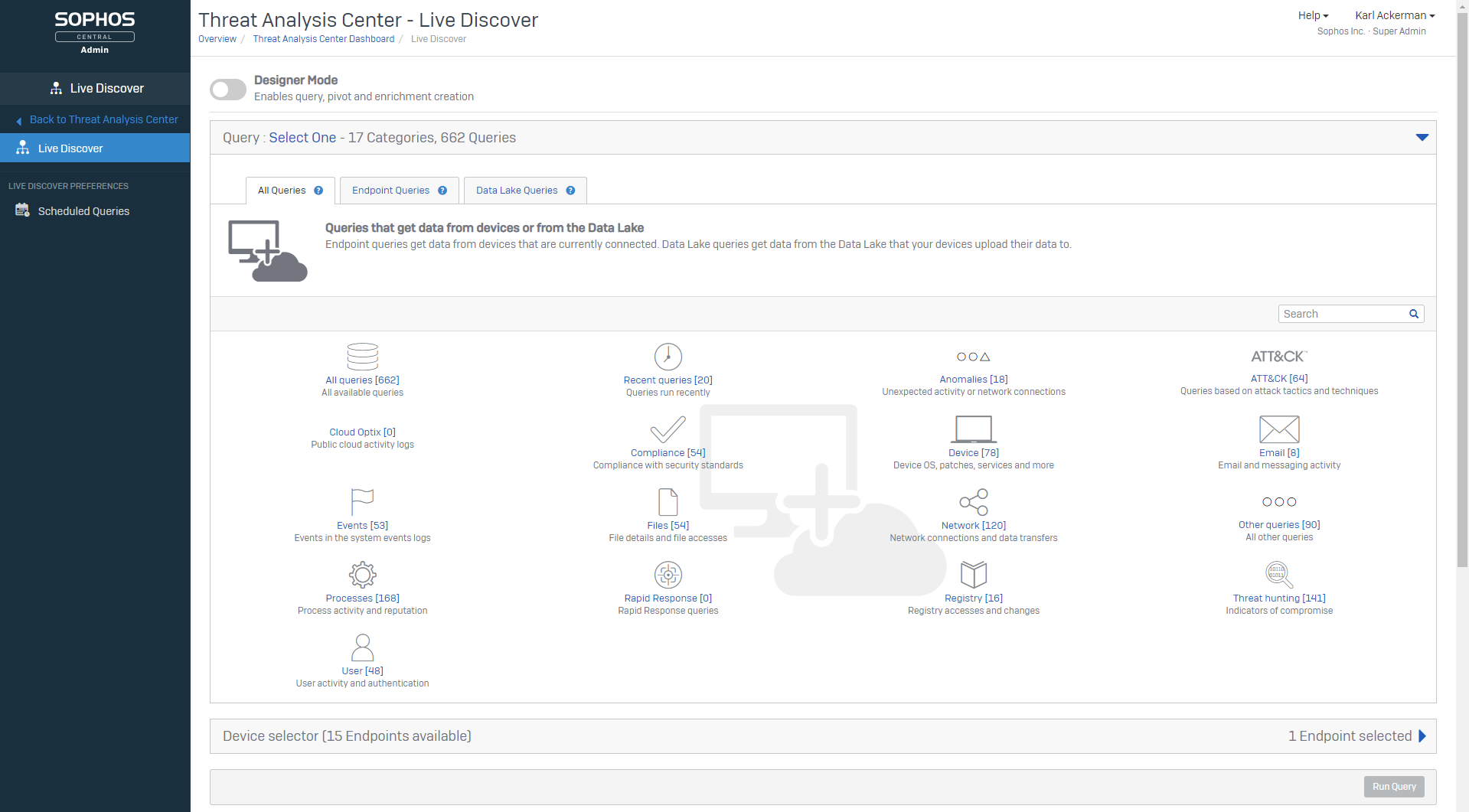 Hunt and neutralize security threats
Hunt and neutralize security threats
Quickly find indicators of compromise (IoC) across your estate
Remotely access, investigate, and remediate devices
Perform guided threat hunting and response

Powerful Cloud Reporting Tools
Get actionable insights in just a few clicks
Benefit from extensive built-in reports
Quickly and easily create your own custom reports
Built for your business with flexible management
Whether you're a small office, a large enterprise, or a Sophos Partner, Sophos Central has exactly what you need to manage everything in one place.
Configuration without the frustration:
Role-based administration with multiple predefined roles for administration, help desk, and reporting
Powerful tools, including easy client setup and zero-touch firewall deployment
Central backup management and firmware updates for your network firewalls
For Sophos Partners and MSPs:
A unique partner dashboard to manage your customers' security from a single console
Ready-to-go integration with Kaseya, ConnectWise, Autotask, and more for enhanced automation
Secure APIs to integrate with third-party SIEM, RMM, PSA and other client management tools
Public API program
Our public API program makes it easy for customers and partners alike to automate monitoring, security, and admin activities in Sophos Central.
Did we mention it's free?
While most IT security vendors want you to pay extra for cloud management, we don't think you should have to. After all, our products are purpose-built for the cloud and take advantage of modern features you simply won't find in hybrid or on-premises solutions. Test drive Sophos Central with any of our products today to see for yourself.