Public Cloud Compliance
Prevent compliance gaps leaving you exposed with a single view of compliance posture across AWS, Azure, and Google Cloud.
Reduce Compliance Cost and Complexity
Sophos Cloud Optix reduces the cost and complexity of compliance with industry standards like SOC2, GDPR, PCI, and others. Get continuous assessments and collaboration tools that seamlessly integrate into your internal processes and controls.
Continuous Assessments
Automatically analyze cloud configuration settings against compliance and security best practice standards without diverting resources from other projects with Sophos Cloud Optix.
Audit-ready Reports
Continuously monitor compliance with custom or out-of-the box templates and audit-ready reports for standards such as FFIEC, GDPR, HIPAA, PCI DSS, and SOC2.
Reduce Audit Costs
Cloud Optix enables you to define which inventory items within your cloud account are subject to certain compliance standards, reducing the hours associated with compliance audits.
Works with Existing Tools
Save weeks of effort by mapping the Control ID from your existing overarching compliance tools such as RSA Archer or MetricStream to Cloud Optix.
Staying Compliant with Cloud Optix
Build compliance into daily processes through integrated alert management with collaboration and ticketing tools including Jira and ServiceNow.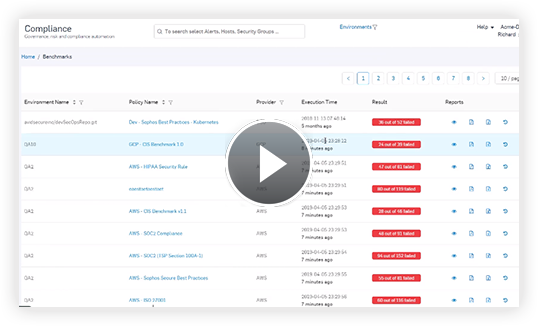 "

Reduce manual compliance efforts, assessment, and monitoring for SOC2 and other regulations.

"
Cloud Security Posture Management ROI Calculator
Sophos Cloud Optix is the ideal solution for organizations using or moving to the public cloud. It provides organizations with the continuous analysis and visibility needed to detect, respond, and prevent security and compliance risks that could leave them exposed.