Ukraine Crisis Resource Center
As the deeply concerning events in Ukraine unfold, we would like to share with you how Sophos is supporting those impacted by this crisis.
First, our hearts go out to the Ukrainian people. Russia's invasion of the sovereign and democratic nation of Ukraine was unprovoked, it violates international law, and it has created an urgent tragedy that directly affects millions of people.
Sophos has customers, partners, employees, and contractors in Ukraine. The safety and wellbeing of our extended team and their family members is our top priority. We are working actively with our local HR and employee teams to determine how best we can be of ongoing help and assistance.
There are some immediate steps we are taking at Sophos to assist the Ukrainian people:
Sophos has donated $50,000 to the Ukraine International Committee of the Red Cross (ICRC) and The UN Refugee Agency, which provide fleeing refugees with critical necessities like water, food, shelter, and clothing.
Sophos is actively working with our distribution partner in Ukraine to provide support to Ukrainian organizations by offering free access to our entire portfolio of advanced software offerings, to help protect those organizations from the wave of cyberattacks that are already underway. Contact Ukraine_support@sophos.com for assistance.
Sophos is providing free access to our software for enterprise organizations and for consumers who are based in Ukraine. Contact Ukraine_support@sophos.com for assistance.
In addition, we have set up this resource center for our customers and partners around the world who have been asking for information and assistance as this situation evolves. We plan to keep this resource center continuously up to date as the situation evolves.
At Sophos we add our voices to so many others around the world calling for the restoration of peace in the region, respect for Ukraine's sovereignty, and a commitment to the safety and protection of the Ukrainian people.
Sophos Ceasing Operations in the Russian Federation and Belarus
Sophos has decided to immediately cease all existing operations in the Russian Federation as of March 9, 2022 including sales and support of existing products and services.
New business orders
Contract renewals
Distribution of software, hardware, or virtual appliances
Consumer offerings
Product downloads and trials
Managed and professional services
Existing partners and customers in the Russian Federation will no longer receive product updates or have access to technical support. In addition, Sophos stopped all new transactions and stopped supporting all existing business in Belarus per United States and European Union Sanctions.
Sophos products will continue to function in the short term. However, protection capabilities will diminish over time as these regions will not be receiving software, data, protection, and threat detection updates. 

In addition, Sophos is suspending access to Sophos Central, the cybersecurity management platform, from geo-located IP addresses within Russia and Belarus and the occupied territories of Crimea, Donetsk, Sevastopol, and Luhansk. Users attempting to access Sophos Central will not be able to connect to protected devices, the Central login page, or any trial registration. Multinational Sophos customers that have offices in the Russian Federation or Belarus should act consistent with their own individual company policies and legal guidance. 

If you have offices, devices, or employees within Russia and Belarus, we strongly advise you to review your security procedures and update your approach at the first opportunity.
Cyber Threat Status
The Russia-Ukraine crisis is evolving fast, and so is the cyber threat situation. Sophos is on high alert and we have established a cross-functional incident room to closely monitor threats both to our customers and our own infrastructure. For the latest threat updates visit our blog and Twitter feed. For full details on Sophos' own security posture visit our Trust Center.

Latest blog updates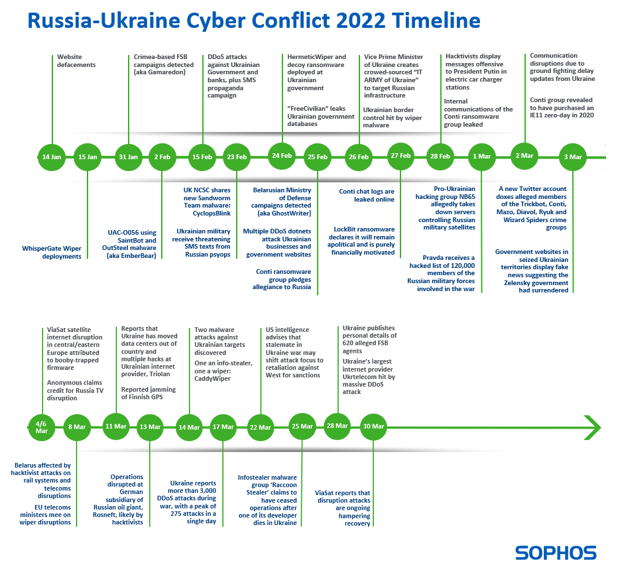 Cybersecurity Best Practices
Situations like this are a reminder to check that you are following cybersecurity best practices, including ensuring your cybersecurity solutions are up to date and configured correctly.
For insights into the cyber threat situation and practical advice to defend your organization, watch our on-demand webinar delivered by Chester Wisniewski, Sophos Principal Research Scientist.
Customer Information
Sophos next-gen solutions provide the highest level of protection against advanced cyber threats. Take this opportunity to review your settings and ensure you have the optimum protections running.
If you are running an earlier version and have the opportunity to upgrade, now is the time to do it.
Sophos Endpoint: Upgrade from Sophos Enterprise Console (SEC) to Sophos Central
Migrating to Sophos
Current events have caused many organizations to evaluate their cybersecurity situation. We recommend the following links for answers to the many requests for information on migrating to Sophos:
Partner Information
We welcome new partners and offer an award-winning Partner Program.