Block zero-day attacks by blocking exploits
Attackers want to distribute and install their malware, steal your data, and evade detection. Using a relatively short list of highly effective exploit techniques enables them to do just this.
With Intercept X, evasive hackers and zero-day attacks can't get through – because rather than focusing solely on stopping malware, Intercept X tracks the behavior that indicates an attack is underway and stops it dead in its tracks.
Vulnerabilities occur in software at an alarming rate, often requiring patches from the vendor – and before those patches, those vulnerabilities remain. While installing the latest patches as quickly as possible is always a recommended best practice, Intercept X offers a layer of protection against unpatched devices. By intercepting the techniques attackers use to take advantage of these and other vulnerabilities, Sophos is able to stop attackers from abusing a computer to do something it should not be doing.
Sophos Intercept X includes:
Exploit Protection
Deny attackers their favorite tools for conducting attacks by blocking the exploits and techniques used in both malware-based and file-less attacks.
Active Adversary Mitigations
Intercept X utilizes a range of techniques, including credential theft prevention, code cave utilization detection, and APC protection used to gain a presence and remain undetected on victim networks.
Deep Learning
Intercept X uses a deep learning neural network, an advanced form of machine learning, to detect known and unknown malware without signatures.
Vulnerabilities vs. Exploits vs. Exploit Techniques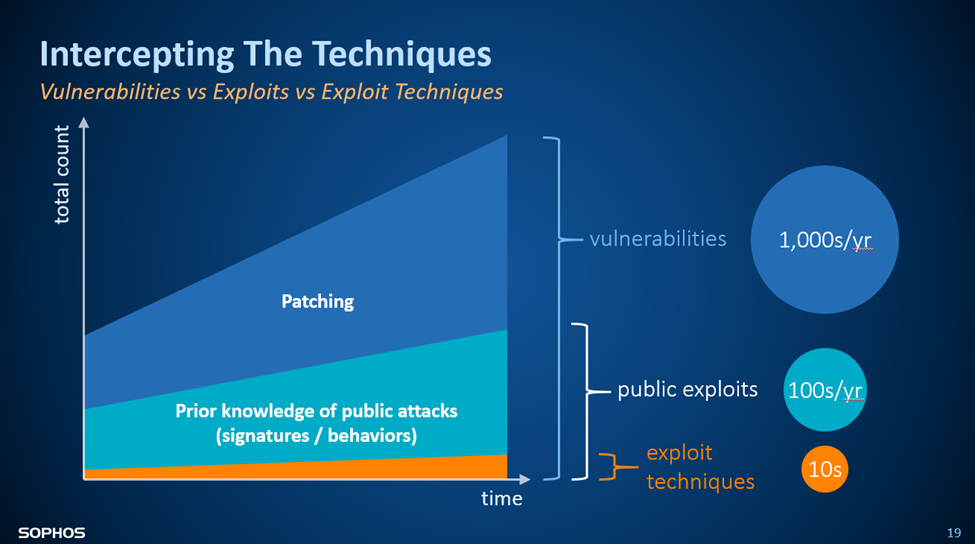 Vulnerability
A weakness in the design or implementation of a piece of hardware/software.
Exploit
A specific successful and reliable use of one or more exploit techniques against one of thousands of potential target vulnerabilities.
Exploit Technique
The underlying way in which an attacker can abuse a vulnerability to make a computer do something it shouldn't
Prevent Exploits in Your Organization with Sophos Intercept X
| | | | | |
| --- | --- | --- | --- | --- |
|   | Sophos Intercept X Advanced | Sophos Intercept X Advanced with XDR | Sophos MDR Standard | Sophos MDR Advanced |
| Foundational techniques | | | | |
| Deep learning | | | | |
| Anti-exploit | | | | |
| CryptoGuard anti-ransomware | | | | |
| Extended detection and response (XDR) |   | | | |
| 24/7 Monitoring and Response |   |   | | |
| Lead-driven threat hunting |   |   | | |
| Advanced lead-less threat hunting |   |   |   | |